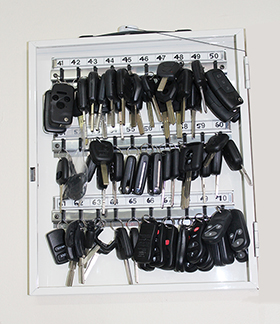 USING MASTER KEYS AND RESTRICTED KEY SYSTEMS
Smart Security for your Business
A master key system is a smart choice for business owners, body corporate managers and landlords, allowing a far higher level of security than offered by standard locking systems.
Master keyed locks are ones that are able to be opened by individually cut keys but also by a single master key. This allows building managers and business owners to have the convenience of complete access to the entire building with one key, and enables them to create groups of responsible people and staff to access certain areas if needed. They make managing keys a lot easier and can control access appropriately.
To secure your business, call Blacks Locksmiths today on (07) 3382 0755.
The difference between keying alike and master keys
'Keying alike' means that one single key operates all locks in a home or business. It is a master key of sorts and is useful for smaller business, however keying alike will not restrict access and anyone who is granted a key will be able to access all locks in a business that is keyed alike. On the other hand, where a master key opens all locks in a building, the subsidiary keys cut will only open a single lock in the building.
In a commercial, business or residential setting master keys and individual keys should always be restricted meaning that they cannot be copied by someone who is not authorised or identified as a legitimate key holder.
Benefits of Master Keys and Restricted Keys for business include:
Ability to restrict access to sensitive areas of a business while allowing complete access to trusted employees or responsible individuals who need access to all areas.
Individuals can access numerous areas by only using one key, meaning fewer keys needed. Less keys means less risk.
Keys are easier to track and lessens the chance of duplicate keys being made without authorisation.
Restricted keys are specially designed by one locksmith and copies can only be obtained through the locksmith who designed the key. This prevents unauthorised duplication.
Restricted locks are more secure due to their patented design. This eliminates the possibility of a lock being accidentally clicked open with the incorrect key.
Tips to maintain a secure master key and restricted key system in your business:
Don't issue high level keys lightly. Make sure the consequences or losing or misplacing a key is clearly communicated as it means rekeying part or all of the system to stop the risk of the misplaced master key. If key-holders understand the costs of losing or misplacing keys they will take extra care.
Always use a key register to track who has what keys at which times. Make sure that if circumstances change, keys are returned or when people no longer need them.
Keep spare keys locked in a safe or off site wherever possible.
A high position in a business should not necessarily mean master key access. Only allocate keys based on the job requirements of the key holder. A cleaner for example will need to access more rooms in a building than a department manager. The fewer master keys in circulation the better!
Our Brisbane locksmiths at Blacks Locksmith have commercial locksmith solutions for your business including master and restricted key systems, alarm systems, digital locks and access cards. A business should never be complacent about their security and who should have access to their premises. The risk is too great!
To find out more about various commercial security options, call Blacks Locksmiths today on (07) 3382 0755.