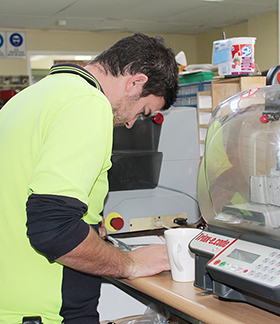 LOCK SERVICING - DON'T GET CAUGHT OUT
Your locks and latches may not be on your radar as part of your home that needs maintaining, but over time as metal components inside your locks wrestle with each other, your locks can wear, become stiff and before you know it you can be caught out with a lock that's completely jammed. Not only can this become expensive when you need to see to it in an emergency, it also usually tends to be at the most inconvenient of times.
For lock installation, replacement, repair and servicing from Beenleigh to Brisbane call Blacks Locksmiths today on (07) 3382 0755.
At Blacks Locksmiths we can look after the maintenance and repair of your locks including lubricating and flushing locks, loosening stiff push button locks, and reassembly if needed. Sometimes locks have become so rusted or degraded, they are no longer reliable and a lock replacement is recommended.
Why do locks need servicing?
Overtime dust, dirt and other contaminants can clog locks. Since most locks are exposed to the elements they will also rust over time, and salt air is also particularly damaging for locks if situated close to the coast. For this reason it's important to monitor the use of these locks.
If a lock is becoming difficult to operate now, it's a sign that it has become stiff. The danger of stiff locks is that they require a lot more force to operate and can easily damage your keys, or worse, cause them to break off inside the lock. Taking preventative measures will ensure you can rely on your locks at all times and keep your home safe and secure.
Can I do service and repair my locks myself? Beware the 'Online How-To Guide'.
There are many 'How to' guides on the internet which instruct in how to service and repair locks, including assembly and disassembly instructions. The problem is that many people have many types of different door locks and the different internet guides can have conflicting instructions on the exact process to follow. When people do not properly understand the advice given, this can do more harm than good and even resulting in damaged locks.
IMPORTANT TIP: DO NOT use oils and household lubricants as these can cause dirt, dust and other debris to stick inside the lock causing gumming in the lock. WD40, while often recommended, can cause wear in internal mechanisms especially in classic pin and tumbler locks.
Unless your particularly handy and know what you're doing, it would be best to leave your lock, latch and door maintenance to your locksmith. Not only will you have your lock hardware assessed with the best plan of action put in place, you won't void the warranty of your equipment and be able to have peace of mind of being able to rely on your locks and the protection they provide.
When your locks start to show resistance, having them serviced now will potentially save you costly repairs or replacements in the future. For lock installation, replacement, repair and servicing from Beenleigh to Brisbane call Blacks Locksmiths today on (07) 3382 0755.