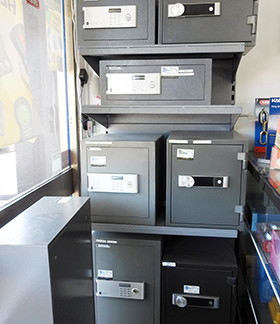 BUYING A HOME SAFE – WHAT TO CONSIDER
If you are looking to buy a home safe, it's essential that you buy a product that offers the protection that you need, and comes with a range of features. A cheap safe can easily be bypassed and cracked open so while price is important, if you want real protection you shouldn't settle on a cheap model you found online.
Blacks Locksmiths sell a range of new and second hand safes in Brisbane, call today on (07) 3382 0755.
Below are some tips to help you buy not only a quality safe, but also a safe that will work for your needs:
How much and what do you want to store?
The quantity and type of items that you want to keep secure, influences the type of safe best suited for your needs. If just for jewellery and paper documents, a smaller safe will most likely work well. Don't be fooled with the size of your safe by only looking at the dimensions from the outside. The internal capacity of most safes often have more usable space than assumed after accounting for:
The weight and thickness of the safe
A good safe is a heavy safe that can't be easily removed from the property. A strong safe is one with steel walls and a fortified door and can be bolted to the floor.
Some safes are made from cheaper materials to reduce their manufacturing and shipping costs, but these offer an inferior level of protection and don't stand up to the 'break-in' test. Generally the more solid steel the better, just make sure its steel all the way through.
Water and fire protection capability
Many safes offer fire and/or water protection which can offer owners extra peace of mind by ensuring their most important and irreplaceable belongings are protected no matter what could happen to their home.
Other security systems that may be in place
If your home already has a monitored alarm system, dead bolts, dead latches or other security systems, offering high levels of protection, a home safe can be used to provide extra peace of mind. doesn't need the level of protection a home with limited security would provide. If your home has limited security and there is easy access for intruders, then you most definitely should invest in the best safe you can afford and keep it concealed somewhere in your home. The most effective safes are the ones that are never seen!
These are some of the main factors to consider before buying a safe. Our locksmiths can provide further obligation free, professional advice to help find the best safe product to suit your needs and budget. Call Blacks Locksmith today on (07) 3382 0755.