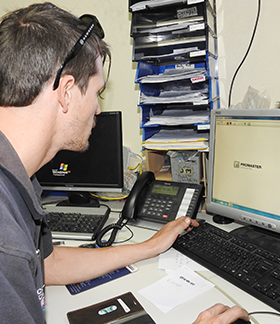 ARMED AND ALARMED – DON'T RISK AN UNMONITORED BUSINESS
When it comes to commercial security, a monitored business alarm system is undoubtedly one of the best ways to have 24/7 protection of your business. With many businesses in Beenleigh, Brisbane and Logan repeatedly being broken into, it can take more than a key to effectively secure your business. Usage of alarm systems in a business can work in a number of ways to reduce loss and damage to your company. They also have the added benefit of creating possible significant savings on your business insurance premiums.
But the role of the alarm system is sometimes misunderstood, the security specialists at Blacks Locksmiths can explain how alarm systems can be integrated with other options into the security of your business. Protect your livelihood with an alarm system, call Blacks Locksmith now on (07) 3382 0755.
Alarm Systems are Proven to Deter Intruders
Businesses that are alarm free are known to be an easy target. Whilst having an alarm system doesn't mean you won't get broken into, it ultimately reduces the chance. Most intruders that break into a business, scope out their target during daylight hours and if would-be criminals see evidence of an alarm system or other business security like CCTV cameras, it is known they will be far more likely to rethink their actions and target elsewhere.
Alarm Systems Warn and Solicit a Response
When an alarm sounds due to a breach of security, thieves are under the spotlight and know that a response is on its way. The sound of an alarm can send them into panic mode, meaning they only have seconds until someone arrives. Compare this to having no alarm system, meaning criminals would have much longer to cause damage or search undetected for specific valuables in the dead of the night.
Alarm Systems Protect People
Alarm systems in a business setting also help to protect people, most notably your staff, where a silent alarm can be sent to an alarm monitoring station. Small businesses need only ask how a security incident could disrupt business, and put its customers or a staff member's safety at risk, to understand how security systems can cover and prevent massive losses.
Most of all an alarm system as well as strong physical security including shutter doors, anti ram raid bolsters, and good lock and window hardware, can offer peace of mind. And when it comes to operating a business and protecting your livelihood – peace of mind is priceless!
Call Blacks Locksmiths today on (07) 3382 0755 to discuss a commercial security system tailored to the needs of your business.